THE FILM
Seen through the eyes of Indigenous prisoners at Victoria's Fulham Correctional Centre, The Art of Incarceration explores how art and culture can empower First Nations people to transcend their unjust cycles of imprisonment.
Following three main artists at different stages of their artistic development and 'rehabilitation' (both within the eyes of the system and within their own introspective consciousness), this narrative documentary both analyses and humanises the over representation of Indigenous Australians within the prison system, whilst seeking answers and striving toward solutions.
Christopher Austin is a proud Gunditjmara Keerraaywoorrong man who has spent 37 years within the youth and adult prison system. His offending behaviour began with minor offenses and eventually escalated to armed robberies. Troy Brabham is a Wemba Wemba man who has spent 9 years within the prison system. His offending behaviour is centred around violence and drug and alcohol addiction. Robby Wirramanda is a Wergaia man who served a 4-year in prison sentence for drug trafficking.
The film is an uncompromising insight into the inmate's quest for cultural identity and spiritual healing as they prepare for the annual Confined exhibition (facilitated by Not For Profit organisation The Torch) and life on the outside.
The film clearly and profoundly explores greatly misunderstood issues such as cultural disconnection, inter-generational trauma, addiction and institutionalisation.
The Confined exhibition represents a middle ground between prison and society, providing the inmates with "experiences that no one can take away from us, no matter how dark the times get".
The Art Of Incarceration was conceived out of a strong friendship between filmmaker Alex Siddons and Robby Wirramanda. Together with Christopher Austin - whom Alex met within the Indigenous unit of Fulham prison – they began a 16-month process of filming hundreds of hours of life inside the prison - and out of it. More recently, Uncle Jack Charles has joined the team (and his old friends) to lend his voice to an issue he feels very passionate about.
The Art of Incarceration will start the conversation that Australia has neglected for far too long.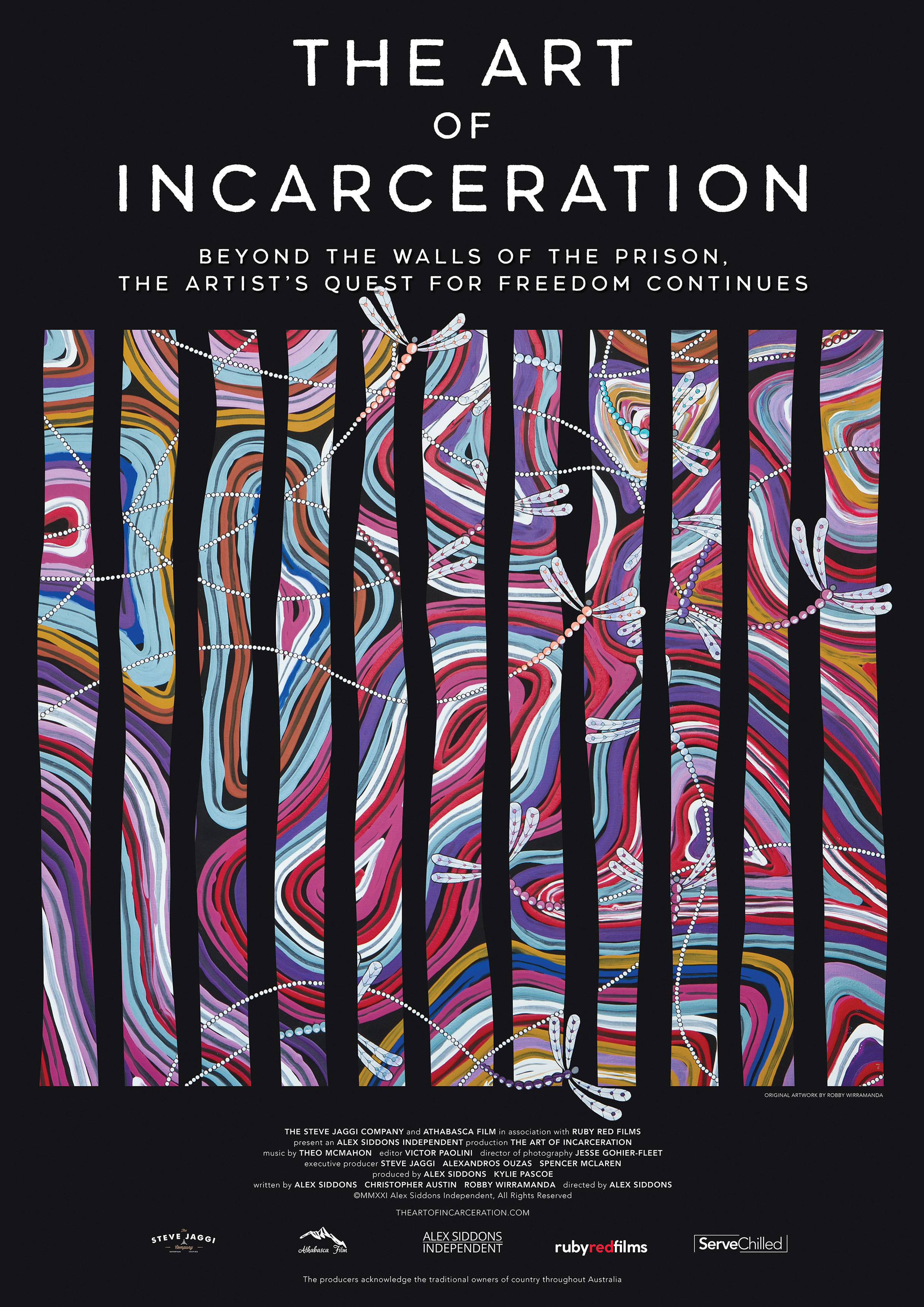 Artwork courtesy of Robby Wirramanda
What people are saying...
" An uncompromising documentary "

Myf Warhurst,

ABC radio
"Siddons has expertly selected his interview subjects - each talks candidly about being an Indigenous man and the impact that being institutionalised has had on their identity."

Jake Watt,

maketheswitch.com.au
"Honest and eye opening"

Travis Akbar,

The Curb